Hydrangeas
This fine group of shrubs is sufficiently diverse to enhance any garden site. We offer six species and numerous cultivars for sale in three- to fifteen-gallon container sizes.
Hydrangea anomala petiolaris
(Climbing Hydrangea) Many consider to be the best climbing vine. Slow to grow and bloom. With time, vine will attach itself to brick or stone walls or to tree trunks. Provides four seasons of beauty. Dark-green foliage. Flowers, cream to white, in late spring to early summer. Late autumn and winter reveal vine's richly-colored flaking bark. Grows well in part to full shade. Zones 5-7.
'Skyland Giant' Exceptionally large, showy, cream-white lacecap blooms on lush, toothed foliage. Illuminates a shaded area. Blooms June-July. Selected at the New Jersey Botanical Garden at Skylands. Climbs to 30'.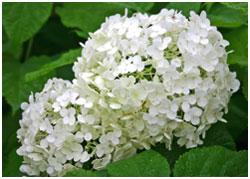 Hydrangea arborescens
(Smooth Hydrangea) Native to the eastern United States. Grows up to 10' tall and wide in the wild. Leaves are large and coarse. Flowers are cream to white, and bloom early on new growth. Prune after bloom for a second fall show. Grow in part sun to deep shade in well-drained, moist soil. Zones 3-9.
'Annabelle' Popular, old-fashioned, shrub. Big and bold 12" snowball-shaped flowers gradually change from green to pure white. Snowballs get larger from first bloom in June thru late summer. 3-5'.
'Hayes Starburst' (H. a. radiata) Narrow, wavy, shiny, dark-green leaves with double white flowers. More compact than species. Discovered by Hayes Jackson of Anniston, Alabama. 3-4'.
'Ryan Gainey' Excellent new selection by Don Shadow. Darker green leaves, smaller, more numerous blooms, and thicker stems than 'Annabelle'. 3-5'.
White Dome® 'Dardom' PP14,168 Clouds of big, dome-shaped, lacy white blooms create a truly Victorian effect. Strong plant with rich dark-green leaves. Strong stems hold blooms upright, even after heavy rain. 4-6'.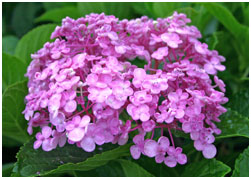 Hydrangea macrophylla
(Bigleaf Hydrangea) A Japanese native popular in the United States. Sometimes called florist's hydrangea. Coarse, large leaves with serrate edges can be leathery or glossy. Two flower types; mophead (presents masses of sterile, rounded flower clusters) or lacecap (displays a center of tight fertile flowers orbited by showy, sterile flowers) bloom blue to pink, mid to late summer. Most bloom on old wood, setting buds in fall. Prune after bloom but before the end of August. Grow in cool, moist soil. Provide afternoon shade in southern most areas. Zones 6-9.
'Ayesha' Popular for its unique character. Mophead bloom of pale pink or mauve spoon-shaped sepals. Florets and leaves have a waxy consistency that give a dramatic effect. Late bloomer with dark lustrous leaves. 4-6'.
'Claudie' PP15,968, Rich blue to mauve starry flowers with unique, well-separated sepals surround large fertile florets. Blooms mid-summer. 3-5'.
'Dooley' Lilac to pink mophead blooms appear in July from buds set the full length of the stem. Assured to bloom when others suffer from a late freeze. Does well in full sun. Selected from the garden of University of Georgia Coach Vince Dooley. 5-6'.
Endless Summer® 'Bailmer' Blooms pink to blue 9" mophead flowers on old and new wood. Deadhead for continuous summer to fall blooms. 3-5'.
'Izu No Hana' Unique lacecap flowers are comprised of a disc of showy, large, pink florets, with even larger, pink double-sterile flowers shooting out in all directions. Dark glossy leaves. 3-5'.
'Jogasaki' Striking lacecap with double, silvery pink sterile blooms atop pink to white fertile florets on dark green semi-lustrous leaves. 5-6'.
'Lady In Red' Large lacecap bloom 4-5" across ringed with pink-white sterile flowers. With age the sepals bow down gracefully showing their aged, burgundy-rose backsides. Attractive red veins contrast with green foliage. 4-5'.
'Lanarth White' Lacecap with many pinkish-white sterile flowers, somewhat irregularly spaced. Fertile flowers are green when young, maturing to mid-blue or lilac. Dries supremely well. Does well in poor soil and full sun. 3-4'.
'Mme. Emile Mouillere' Unique, white-blooming mophead that blooms on new growth. A late freeze won't spoil the bloom. Foliage is a bonus; lush green leaves that give nice fall color. Likes full sun. 5-6'.
'Mousmee' Big, purple-pink lacecap blooms accentuated with blue, fertile flowers in the center of the inflorescence. 3-5'.
'Nigra' Old-fashioned plant for today's landscape. Striking contrast of bright green foliage, purple-black juvenile stems, and rose to blue mophead flowers. Also grows well in planter. 4-6'.
'Parsifal' Strong stems bearing large tight mophead spheres that bloom from dark pink to deep blue. Leaves are small, serrate and clear green. Needs afternoon shade. 3-5'.
'Penny Mac' Blooms on new wood. Heavy spring pruning will encourage more blooms. Pink to light-blue mophead blooms dry nicely. From the garden of Penny McHenry (AHS founder), Atlanta, Georgia. 5-6'.
'Shamrock' PP16,223, Compact plant with delicate, double floret lacecap blooms of light pink to blue in June. Floriferous long-lived blooms age to bright red or red-violet. Full sun to part shade. 3-5'.
'Teller Blue' Shade lover. Giant blue-on-blue lacecap blooms (10-12") midsummer to fall. Long waxy leaves hold up well all summer. 6-8'.
'Tokyo Delight' Lacecap blooms with pink sterile flowers ringed around white fertile florets in midsummer. Rounded habit. Part shade. 3-6'.
'Veitchii' Robust, bushy shrub with ovate glossy dark-green leaves. Lacecap blooms feature fertile blue-violet florets circled by white sterile flowers. Grow in sun (even container) with plenty of moisture. 3-6'.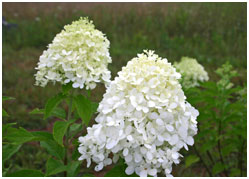 Hydrangea paniculata
(Panicle Hydrangea)
Native from Japan to China. Panicle is a sun lover (with adequate moisture) and grows 10 to 20'. Stems grow upright but will bow from weight of white (fading to pink) 6-18" long conical flower clusters. Leaves are narrow, serrate, dark-green and slightly hairy. Stems produce three whorled leaves at nodes. Blooms on new growth. Prune to shape and remove old stems winter to early spring. Don't cut back severely. Zones 3-8.
'Kyushu' Lustrous dark green foliage with panicles of mixed fertile and sterile white flowers that turn almost purple with age. Holds its blooms longer than others. Shape as tree or grow as large shrub in informal setting 12-15'.
'Limelight' PP12,874, Lime-green and white summer blooms fade to a blend of green, pink, and magenta in fall. Strong upright stems with medium-green leaves. Hybridized by Pieter Zwijnenburg Jr. 6-10'.
'Little Lamb' PP15,395 Inflorescence resembles a little lamb with white fertile florets capped by sterile sepals held on a stiff, contrasting green stem. Compact habit. Good for floral arrangements. 6-8'.
'Pink Diamond' Blooms well in light shade. Rounded habit. Clean, green foliage on reliably hardy shrub or small tree. Bright, white, pink, and red (all at once) blooming panicles hold color for extended fall interest. 8-10'.
Pinky WinkyTM 'DVPpinky' PP16,166, Two-toned flower heads. White flowers open gradually, fading to pink. New white florets continue to open from panicle's end. Dark-green foliage on strong, upright stems. 6-8'.
Quickfire® 'Bulk' PP16,812, cbraf First to bloom. Red stems hold early-summer cream-white flowers that turn pink then almost red in fall. Neat, arching habit. Very hardy. Moderate grower. 6-8'.
The SwanTM 'Barbara' PP13,606 Cone-shaped panicles of loose, nodding snow-white florets bloom mid-summer into autumn. Good for bouquets, fresh or dried. Easily maintained to a small shrub or tree. Hybridized by the late Jelena De Belder of Belgium. 6-8'.
'Unique' Bears enormous, white conical flowerheads; broad at the base and rounded at the tip. Rounded sepals of sterile flowers completely hide fragrant fertile florets. Can be maintained as a small tree or multi-stemmed shrub. Very cold hardy. 10-14'.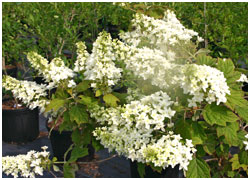 Hydrangea quercifolia
(Oakleaf Hydrangea) A southeastern United States native with coarse, large, oak-like leaves. Foliage emerges gray-green, matures to dark-green, then displays nice fall color. Twisting, pealing bark (light tan to cinnamon) gives added winter interest. Cream-white, fragrant, conical-shaped flowerheads bloom May-June fading to pink by July. Blooms on old wood. Prune as needed before August. Prefers shade to part-sun with well-drained soil, dryer than most hydrangeas. Zones 5-9.
'Alice' Upright 14" cream, fading to rose-pink, flower clusters. Dark-green foliage turns burgundy in fall. Tolerates more sun than most. Strong grower. 8-12'.
'Amethyst' White, fading to Amethyst, 6" flowers hold color nicely when dried. Fall color is purple to scarlet. Compact shrub introduced by Michael A. Dirr. 4-6'.
'Emerald Lake' (aka 'Wade Mahlke') Free flowering 8-12" compact inflorescences of mostly sterile flowers. 5-8'.
'Pee Wee' Compact, mounding shrub with smaller leaves and 4-5" white pyramidal flowerheads. Fall foliage is rose to purple. Great for the small garden. 3x3'.
'Semmes Beauty' More heat tolerant than most. Good choice for the southernmost zones. A strong grower with large white inflorescences. Burgundy fall foliage. Sun tolerant. 10-12'.
'Snowflake' Dark-green stems contrast nicely with large, white and pink flowerheads. White sepals continue to open atop mature pink ones giving a dual-flower appearance. Fall foliage is crimson. Discovered by Eddie Aldridge, Hoover, Alabama. 5-6'.
'Snow Queen' Large dense inflorescences fade to rich pink on dependably upright stems. Foliage turns red-bronze in fall. Longer lived in cooler zones with part sun. A Princeton Nursery introduction. Nice specimen shrub. 6-8'.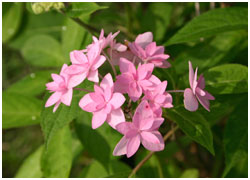 Hydrangea serrata
(Sawtooth Hydrangea) Native of the forest regions of Japan and Korea. Similar to Bigleaf Hydrangea but smaller and more delicate. Grows 3-5'. Blue to pink small flowers, mostly lacecaps. Blooms on old and new wood. Prune lightly after spring bloom. Leaves are small, slender, serrate, dull green. Prefers shade, even moisture, rich soil and wind protection. Generally more cold hardy than Bigleaf. Zones 5-7.
'Benigaku' Deep green serrate foliage. Red-pink lacecap flowers darkening to red with a blue haze. Superb burgundy-red autumn leaf color. 3-5'.
'Blue Bird' Summer bloomer. Blue lacecap flowers bow to show their pink undersides in fall. Mounding habit. Dark-green, flat leaves turn striking copper-red in fall. 3-5'.
'Grayswood' Large, white lacecap flowers mature to pink then burgundy. Free blooming from June to frost. Pale to dark green leaves are red-tipped in fall. 3-5'.
'Miranda' Delicate lacecap blooms of pink to variegated blue and white sepals. Leaves are light green, with yellow tips and veins. In fall leaf-tips and veins turn bright red. Dwarf. 2-3'.
'Midoriboshi-temari' Rare lacecap. Pink to lavender sterile, double, starbursts resemble fireworks shooting from pink fertile florets. Taller, more upright than most. Light-green foliage. 3-5'.
'Preziosa' Blushed pink snowball, and occasionally lacecap, flowers gradually become stained with hues of crimson to red. Serrate leaves emerge purple-tinted, mature to green, then age red-purple by fall. Deep burgundy stems. 3-4'.
'Shichidanka' Elegant double-flowered pink-lavender lacecaps. Sepals are star-shaped, one upon the other. Serrate, flat, dark-green leaves turn hues of orange in fall. Compact. 2-3'.
'Wilson' Early and prolific bloomer. Light-lavender lacecaps on cascading dwarf shrub. Leaves are medium green with purple hue in fall. No need to prune. 2-3'.