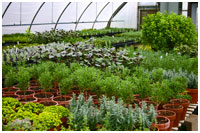 Terms and Conditions:
Business Hours: Our office is open 8:30 to 5:00 Monday through Thursday and 8:30 to 3:00 on Friday. Saturday hours by appointment.
Conditions of Sale: To qualify to buy wholesale, you must be actively involved in the wholesale or retail redistribution of plants, i.e. landscape contractors, building contractors, nurseries, and garden centers. Please provide a copy of your business license with your first purchase.
We do not sell retail.
Visitors: Visiting the nursery is a great way for you to see the quality and variety of our plants. However, being a production oriented facility, we ask that you make an appointment before visiting to allow us to schedule one of our staff to assist you.
Plant Availability: Each week we prepare and distribute (by e-mail or fax) an availability list of plants that are currently ready for the garden. Plants on our complete production list may also be available but are not listed due to various reasons, i.e. low numbers, dormancy, pruning or transplanting. Please give us a call if you are looking for plants that may not appear on the current week's list.
Orders: We are glad to take your orders by e-mail, fax or phone. Our preference is to receive orders by fax or e-mail with quantities and sizes written or circled on the availability list next to the size requested. This provides a copy for your staff and ours, which minimizes errors.
Orders are filled in the order they are received. We take great pride in selecting our best plants to fill your orders. This selection and proper labeling take time so we ask that you get your orders to us as soon as possible. During the height of the season the trucks will fill up quickly.
If you would like to pick up your order from the nursery, please call ahead and we will have it pulled and labeled when you arrive.
**If you would like to make your selections on site, an appointment is necessary to assure a member of our staff will be available to assist you.
Not all plants in the nursery are for sale. If the plants are not listed on the current availability list, please ask before pulling plants out of inventory. Some plants are pre-booked, propagation stock, or a part of a collection. A red tag indicates that plant is definitely not for sale.
All wholesale prices on the availability list are for full flats. Half flat mininum applies to all quart and 4" flats. Mixed flats will be charged by the pot.
Pre-Orders: We are happy to work with you to schedule your plants for the upcoming season or to hold plants in inventory for up to 30 days for your scheduled jobs.
A 25% deposit is required for this service.
If order is not received by customer, the deposit is forfeited to cover re-stocking costs.
Delivery Schedule and Rates:
Atlanta: $60 Nashville: $60 Knoxville/local: $25 Outside county: $30.00
Chattanooga: $35
We deliver to Atlanta, Chattanooga, & Nashville on a weekly basis during season and as trucks are filled off-season. Local deliveries are made weekly.


Terms of Sale

- Payment is due upon delivery with or without terms.
-All accounts will be Cash or Credit Card until credit is approved.
-We accept Visa, Mastercard, and Discover.
-CREDIT TERMS:
Charges are allowed to companies with established credit only.
New accounts may apply for credit after 60 days of steady business with our company. A credit application will be sent upon request. Most references refuse to give credit information by phone, so please allow 4-6 weeks for credit clearance.
-If 30 day terms have been established, we will accept a 30 day post-dated check at the time of delivery. This payment will be held until the due date and deposited at that time.
(This policy was tested in 2009 and proved to be beneficial to both us and the customer).
-All sales on your credit account are net 30 days from invoice date with a 1.5% finance charge assessed per month thereafter. On any account with invoices over 60 days, credit privileges will be terminated and account will revert back to a COD or credit card basis. The entire account balance will be due at that time. Payment received on account will be credited to finance charges first, then to invoice in date order.
Please remember that credit is a privilege.
**In the event that an account reaches 90 days, it will automatically be turned over to our attorney for collection; all associated costs are the responsibility of the customer.
COD ACCOUNTS;
If terms have not been established, a check with the current date is required when the order is delivered.
You may also make arrangements for credit card payment with the office prior to delivery.
*There is $30 service charge for all returned checks.
*Credit cards may by used at time of purchase, but not for payment upon account.

*Please note that we have a relatively strict credit policy.
We are a small nursery dedicated to growing quality plants. We operate with a very small office staff and have implemented a credit policy designed to protect both us and the customer. Your consideration in terms of payment is greatly appreciated.
---