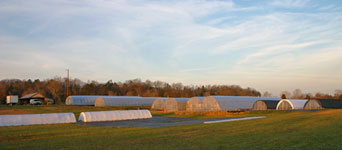 About Us:
Riverdale Nursery, LLC is an 18 acre wholesale nursery located just east of downtown Knoxville Tennessee on the beautiful French Broad River. The nursery is owned by Mark Burch and Debra Taylor who have operated the nursery for over 25 years.
We grow select annuals, perennials, herbs, vegetables, shrubs, and vines. The plant varieties we grow are chosen carefully, selected for interest, historical significance, beauty, and reliability. Our attention to detail and personal involvement in every aspect of our nursery sets us apart as growers of some of the finest quality plants available.
Our philosophy is to do our best job, to take the best possible care of our plants, our customers, our environment and each other. We take a great deal of pride in knowing that we are growing plants that will add to the health and beauty of our environment and be enjoyed in gardens and landscapes for many years to come. We sincerely believe that people's lives can be made richer by spending time in a garden and we are happy to do our part.
---